Portable Gas Analyzer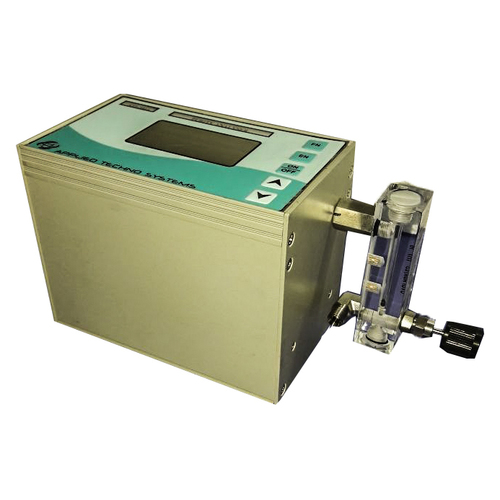 Portable Gas Analyzer
Product Description
Portable Gas Analyzer Model ATS-206A
Compact, Portable construction and simplicity of operation makes Applied Portable Gas Analyser a valuable aid for insitute use in constantly changing measurement sites.
The highly upgradable ATS - 206A model can be AC Powered and/or Battery operated. It may include a chargeable battery charger, Sampling Probe with condensate trap and an inline Micro Filter and an inbuilt Sampling Pump. It can be built to include upto 8 Nos. of Gas Sensors and Temperature Sensor, Draft/ Pressure besides the calculated parameters and have option of

Data Logger
Integral Printer
RS 232 Output
Date & Time
Facility for Automa

Specifications:
Display : Graphics LCD
Sampling : Through inbuilt Sampling Pump.
Zero Calibration:Automatic at instrument startup with fresh air sample
SPAN Calibration:Automatic span areas (Fresh air for oxygen)
Response time:30 sec at 95 % variation
Power Supply :110V or 220V & AC Ni-cad battery pack with integral charger.
Working Temperature : -5 to 55C
Storage Temperature : -20 to 50C
Probe Length : SS 600 mm length standard (900 & 1200 mm optional)
Probe Diameter : 8mm (12mm optional)
Battery life: 6 hours continuous operation
Data Memory : 500 readings for each gases.
Printer : Impact type 24 columns.
Printing speed : 0.75 lines / seconds.
Alarms : Visual and audible, 4 Alarms
Digital Interface : RS 232/USB
User Data : 2 lines of 16 characters
Case : Rigid Aluminum
External Dimensions : 280 x 210 x 185 mm
Weight (Gross) : < 2 kg. with batteries (Approx.)
Interference Filters : Provided with Sensors
Line Filter : Replaceable 5 microns
Accessories : Water Trap
Preprogrammed Fuels : Light & Heavy Diesel Oil, Gas, Coal, Furnace Oil, Wood
Special Fuels - preprogrammed on request.
Applications:

Ambient and Emissions Monitoring
Stack or Exhaust Gas Analysis in Boilers
Power & Industrial Plants
Process Analysis
Fuel Efficiency
Internal Combustion